I'm re-purposing an old post because a good friend and I just had a lengthy conversation about milk jugs … It made me think of this post …
---
We drink about a gallon of milk each day in this house… between coffee, cereal and chocolate milk, we really should just buy the cow
But in the meantime, I have TONS of gallon milk jugs being tossed out every week in my recycling bin and thought that there has to be an alternative….
Well, here are some alternatives that I found :
Milk Jug Piggy Bank ( I
banks!!)
---
Winter Seed Sowing ~ plant your seeds indoors with this awesome idea!
---
Spooky Luminaries ~ Make luminaries by cutting off the top of a milk jug, filling the bottom with 2 or 3 inches of sand, then placing a votive candle in the sand. Line a walkway or garden path with the lights.
---
↑ This is my fave !!! I just don't know if I'm THAT crafty !↑
Make a really cool light fixture ~ cut the top portion to create a slightly larger opening. Insert then attach a light bulb inside the container and you will have a cool unconventional lamp. (there is no direct link for instructions, but its made with a hula hoop, 14 milk jugs, a string of Christmas Lights and super strong hanging material!) 
---
Grocery Bag Holder ~ Cut a hole in the top large enough to stuff them in, cut a hole in the front to pull them out, and you're done!
---
And a bunch of random uses …. use your imagination on how they will look
~ Storage for rice, beans, oats, other grains ~ just make sure they are dry !!!
~ Plant Protectors
~ Funnel (cut off bottom)
~ Scooper
~ Tray under house plants ~ using only the bottom 3" of the jug
~ Clothesline-Clothespin Holders
~ Salt Keeper/Spreader
AND … Let's not forget those caps …..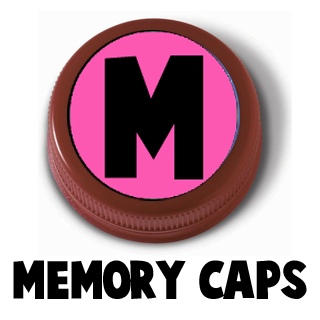 ↑ Alphabet/Numbers Memory Game ↑
How do you UpCycle your Milk Jugs and Caps ??